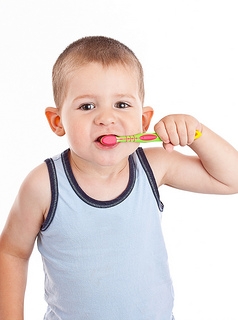 Our team at Children's Dental Care would like to offer some tips regarding the sometimes dreaded task of brushing a toddler's teeth.
Much of the trick lies in the positioning. Before you begin, make sure you are in a position of control. This protects both you and your child from injury. Consider how well you can see. If you cannot see clearly, the quality of brushing drops significantly. For instance, if your child is standing, you are likely to see only the bottom teeth well.
Our team finds that the best position for brushing and flossing a toddler is when your child is calm. Have your child lie down on his or her back with arms out to make a T. Sit down just above the head and lightly place your legs over your child's arms. Using a circular motion, brush all sides of the teeth.
It may sound odd, but approaching the routine this way can make brushing time a cinch! After you're done, give your child the toothbrush and let him or her have a turn. The benefit of doing the brushing and flossing first is that it gives an example, which your child is more likely to repeat when you're done.
Different methods work best for different families and children. These practices need to be performed with kindness and care. Be gentle and make this time a happy learning time. Don't forget to bring your child to our Las Vegas, NV office for regular dental checkups and cleanings. Dr. LaLande can advise you on ways to implement portions of these tips in a way that may work bests for you and your child.